Polemount Fault Interrupter
Overview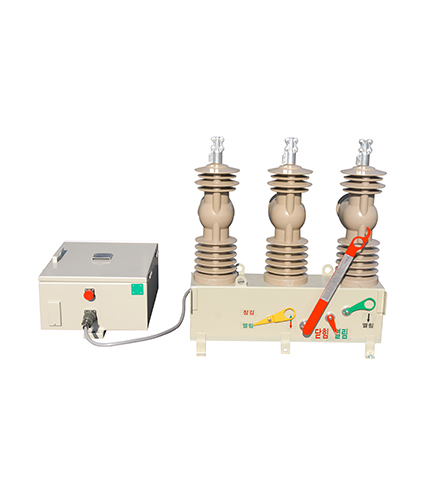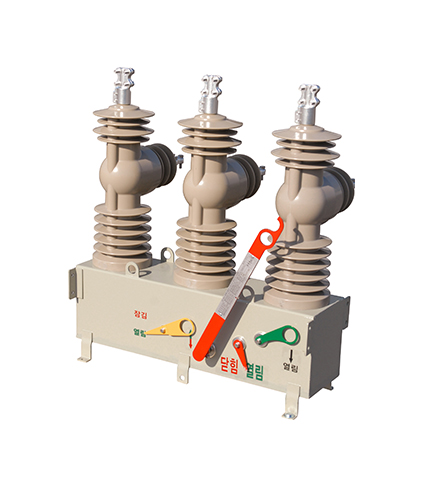 Polemount soild dielectric fault interrupters have a total number of unit operations of 116 times by using field-proven vacuum interrupters with high reliability, and are installed on MV distribution lines.
In addition, they guarantee high operating reliability through a compact single drive mechanism with mechanical endurance of 5,000 operations.
The spring for opening operation is charged first before the fault interrupter is closed by electrical operation or manual closing lever.
Ratings
| Item | Ratings |
| --- | --- |
| Rated Voltage | 25.8kV |
| Applicable Standard | IEC 62271-111 |
| Rated Current(A) | 400A |
| Rated Frequency(Hz) | 60 |
| Rated Short Time Current(kA) | 12.5, 1sec |
| Rated Breaking Current(kA) | 12.5 |
| Rated Making Current(kAp) | 32.5 |
| Total Number of Unit Operations | 116 |
| Mechanical Endurance | 5,000 Operations |
| Rated Power Frequency Withstand Voltage(kV) | 60 |
| Impulse Withstand Voltage(kV) | 150 |
| Operating Mechanism | Manually Operated and/or Motorized |
| Insulation Medium | Solid |
| Interrupting Medium | Vacuum |
| Bushing Terminal | Universal Clamp or NEMA Pad |
Key Features
01

Pole assembly made of HCEP(hydrophobic cycloaliphatic epoxy) to ensure excellent insulation properties.

02

The main contact can be opened or closed electrically or manually.

03

Closing lever and opening lever for manual operation.

04

Built-in voltage sensor for measuring the voltage of each phase on the source side and load side.

05

Built-in current sensor for measuring current of each phase.

06

Position indicator for displaying the position of the main contact.

07

Mechanical locking device and status contact for blocking all electrical and manual operation.

08

Single control cable connection to control.

09

Operating handle and lever that can be operated on the ground using a hot stick.

10

Installation bracket that can be installed on the poles or frame structures.
Applications
Used as an sectionalizer in conjucntion with reclosers on MV overhead distribution lines.
Used a fault interrupter to interrupt faults faster than upstream reclosers on the main or branch lines.
Used as a fault interrupter installed at the connection point with distributed energy resources to perform selective protection operation according to the direction of faults.
Used as a load break switch to make or break loads, or to temporarily sectionalize some sections.

BH SYSTEM249-14, Soltaesangdu-gil, Hyangnam-eup, Hwaseong-si, Gyeonggi-do, KOREA
82-31-689-3211
info@bh-system.com