Tester & Power Electronics
Overview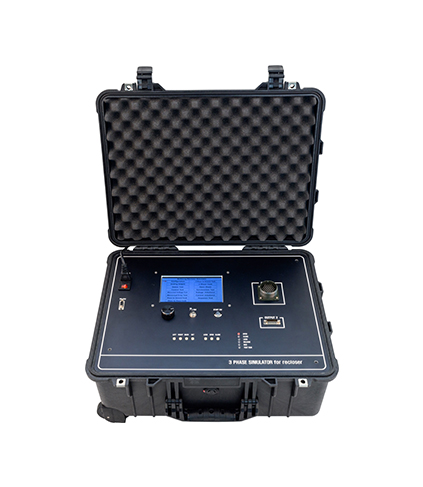 Digital type testers are fully digitized testers for testing BR-10 series LBS or recloser controls, and are used to check whether functions such as condition monitoring, control, and measurement of controls operate normally in the field or in the lab.
Various types of line faults can be simulated according to user settings for testing of fault detection and the operation of protective elements.
It can control their phase angles as well as the magnitude of voltage and current by user setting.
It is designed to be portable and robust using field-proven hard case for field use.
Key Features
01

Simulation of the status of the recloser or load break switch.

- The position of main contact position, and the status of mechanical locking device and gas pressure, etc.

02

Three-phase current source with adjustable magnitude and phase of each phase current.

03

Two three-phase voltage sources with adjustable magnitude and phase of each phase voltage.

04

User-configurable simulation sequences of line fault.

05

7-inch LCD screen and navigation keys.

06

Auxiliary DI and DO contacts.
Applications
Used to test detailed functions of BR-10 series LBS or recloser controls.
Used to check normal operation of controls after repair and board replacement.
Used to simulate various line environment and test protective elements .
Benefits
Tests from basic functions to various protection elements are possible, enabling use at the field and laboratory level.
Related Products
BR-10 series controls.
Control and power cables.

BH SYSTEM249-14, Soltaesangdu-gil, Hyangnam-eup, Hwaseong-si, Gyeonggi-do, KOREA
82-31-689-3211
info@bh-system.com