Tester & Power Electronics
Overview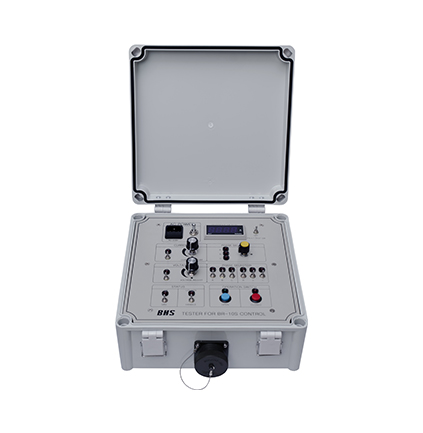 Tester for recloser / LBS control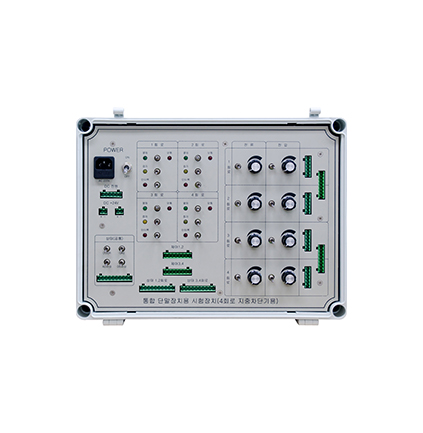 Tester for padmount switchgear control
Analog type testers are devices for testing BR-10 series controls, and are used to check whether the controls normally perform functions such as status monitoring, control and measurement in the field.
The tester and the control are connected via the supplied control cable and an additional auxiliary AC power is required.
It is designed to be portable and has a sturdy structure for field use.
Key Features
01

Switches and status contacts to simulate the status of MV switching equipment .

- Position of the main contact, and locking device and gas pressure status, etc.

02

Phase select switch for single-phase current injection and adjustment knob.

03

Adjustment knob and switches for each phase to supply in-phase voltage.

04

Switch capable of simultaneously turning on and off voltages and currents to manually simulate line faults.

05

Disconnect and resume the current output according to the state of the main contact to test the reclose sequence.

06

Ampere meter to indicate the magnitude of the injected current.
Applications
Used for scheduled maintenance of controls, or to identify faulty parts in the field.
Used to check normal operation of controls after repair or maintenance.
Used to simulate the operation of MV switching equipment.
Benefits
Reduce the time required for inspection and testing by using a dedicated tester.
Lightweight and robust tester that can be used immediately in the field without the need for professional training.
Reduce the purchase cost of equipment by reducing the need of expensive testing devices.
Related Products
BR-10 series controls.
Control & power cables.

BH SYSTEM249-14, Soltaesangdu-gil, Hyangnam-eup, Hwaseong-si, Gyeonggi-do, KOREA
82-31-689-3211
info@bh-system.com