Padmount Switchgear Solution
Overview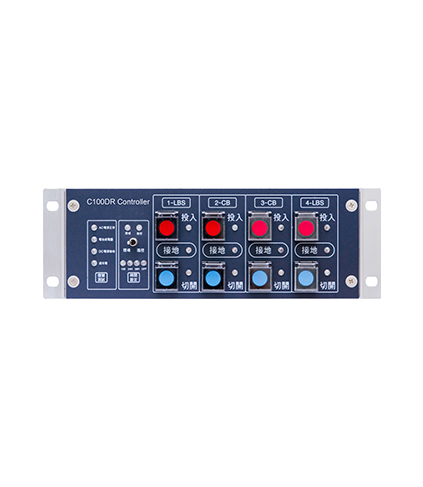 The C100DC controller is a control panel used for local operation of padmount fault interrupters with three-way or four-way configuration. It is mainly used as an local control panel for status indication and local control of each load break switch and circuit breaker built into the padmount fault interrupter, and power and battery management. In addition, it can provide device status to RTUs with communications functions through dry contacts, and has a pass-through function to control load break switches or circuit breakers by receiving control signals from RTUs.
Key Features
01

Indicate the position of the main contact of each way including earth position(Closed/Open/Earth).

02

Safety button to electrically operate the main contact of each way.

03

Battery charger, battery and power status monitoring, and battery test button.

04

Battery disconnection time setting that operates when auxiliary AC power is lost, and status indicator.

05

Switch and indicator for control source selection (Local/Remote).

06

Provide different statuses to RTU through dry contacts.
Applications
Used as a control panel for the operation of padmount switchgears consisting of a combination load break switches and circuit breakers, such as the padmount fault interrupter.
Used as a device to interface with padmount switchgears and RTU for remote operation.
Benefits
Provide local operation for all switching equipment built into the padmount switchgear through one control panel.
Enable step-by-step expansion of functions including remote operation to prevent redundant investment when building an automation system.
Related Products
SF6 gas insulated Padmount fault interrupter.
Soild insulated Padmount fault interrupter.
100DR dual overcurrent relay

BH SYSTEM249-14, Soltaesangdu-gil, Hyangnam-eup, Hwaseong-si, Gyeonggi-do, KOREA
82-31-689-3211
info@bh-system.com