Padmount Switchgear Solution
Overview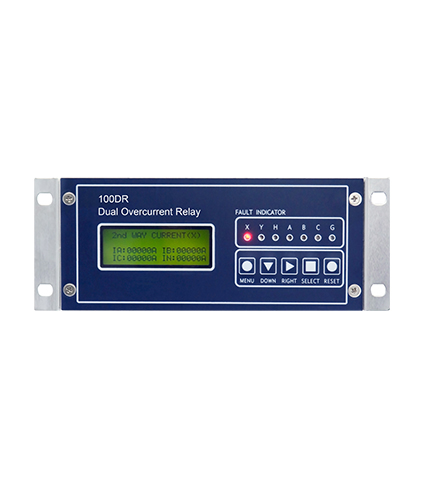 The 100DR dual overcurrent relay is a protective relay used to protect two circuits using a single relay, and is installed in padmount fault interrupters with two protected ways. It is not used alone, but are installed together with C100DR Controller to provide local operation and control, status display of the device, and an interface with FRTU (Feeder Remote Terminal Unit), which is installed separately for integration into an automation system.
Key Features
01

Phase and ground overcurrent elements for two protected ways.

02

Fault indicator and reset button for each phase.

03

20 characters and 4 lines LCD display, and four menu keys.

04

Supported TCC curves : MI, EI, and VI curves according to IEEE C37.112.

05

One RS 232 port or RS 485 Port for maintenance.

06

Operating program for setting and verifying parameters, and checking status and event history.

07

Record the number of operations by protective elements for each phase of each way.

08

Stores up to 2048 sequential events and fault waveforms.
Applications
Used as a protective relay for padmount fault interrupter to prevent a fault on the load side from spreading to the entire system through protection operations for circuits connected to two protected ways using one protective relay.
Benefits
Reduce initial cost by using one protective relay to protect two protected ways.
Minimize outage sections and duration by preventing the spread of faults on the load side to the entire system.
Related Products
SF6 gas insulated padmount fault interrupter.
Solid dielectric padmount fault interrupter.
C100DR Controller.
Live line indicator.

BH SYSTEM249-14, Soltaesangdu-gil, Hyangnam-eup, Hwaseong-si, Gyeonggi-do, KOREA
82-31-689-3211
info@bh-system.com